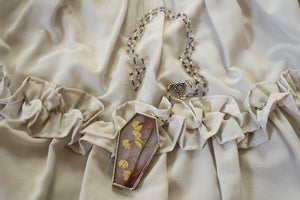 Each flower represents the power of memories passed, preserved in glass so that we don't forget the beauty in life when times are difficult.  As flowers begin to wilt and depart against the cooling nights and heavy heat of the day, we can begin to look forward to the wonders the next season brings while keeping them close at heart.
Each pressed flower necklace features dried natural flora between two panes of hand-cut, ground, and soldered glass.  Each necklace is assembled on a 24+3inch natural gemstone chain with sterling silver plating.

Each necklace is made from entirely non-toxic and hypo allergenic materials.  The hardware is comprised of fine US-cast pewter that has been plated in sterling silver.
This particular necklace uses pink glass, natural rose quartz beads, and pressed lily of the valley. 
To care for your necklace:
Natural flowers may fade over time if stored improperly.  When not in use, store in a dry, dark place.  Storing in direct sunlight will cause the flowers to fade.  Regular use/wear in daylight is okay.
Do not submerge your necklace in water as some may enter and damage the flowers.  To clean, wipe with a damp cloth and immediately dry.  If extra dirty, wipe with a damp and slightly soapy wet cloth, then wipe with a plain damp cloth to remove soap and immediately dry.