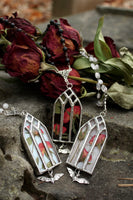 Handmade with Elegance
Each item from Néant Glass is handmade start to finish.  From design drawings, glass cutting and grinding, to soldering and assembly, everything is made with meticulous care and attention to detail.

Upcoming Events
Nightshade: A Japanese Street Fashion and Alternative Event
Durham, NC Oct. 21-22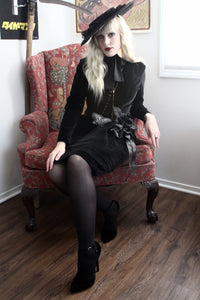 About the Artist
Want to know more about the artist behind the work?  Visit the introduction blog!
Read More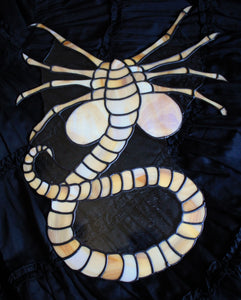 Custom Work Available
Have an idea to bring to life in stained glass?  Contact to discuss custom commission pricing and timelines and we'll make it happen.
Contact
"These are stunning!!! They're very bold but still lowkey and really bring your entire look together! The craftsmanship is gorgeous and the glass is great quality! I cannot absolutely wait to add more to my collection!!"

Vivi, NY USA
"stunning! And the blue is a perfect match for classic Moitie blue 💙"

"Don't think just buy"

Kim, NC USA
"Gorgeous, high quality ring. I get tons of comments on it!"

Laura, TX USA
"Absolutely gorgeous! Bought both the black and blue and I am obsessed with them. A really nice size, striking but comfortable. Thank you so much!"

Michelle, AZ USA
"Absolutely beautiful in its simplicity and elegance. You can tell a lot of love went into these. This is a perfect gift for the goth in your life (or yourself if you favor an aristocratic flair for the darkness)."

Stephanie, IN USA
"Gorgeous and well made!

Are you sure it's ok to sell such nice things so cheap? Ok, ok, but seriously, it's perfect. Also, items were all packed with rough shipping in mind.

With how great they turned out though, I have to say it, I'd be happy to pay more next time [especially if there's an option for a different band later]. My grandma is a glass bead artist, so believe me, this praise is well deserved."

Meg, CA USA
Absolutely beautiful ring, I'm sure I will wear it a lot 

purplekittykat, GB United Kingdom
Absolutely Beautiful ring! I can't wait to wear it with my outfits ^_^

Aileen, HI USA
Excellent work as always! I'll probably get another one next time orders are open.

Riley, WA USA